SINCE 2000
Suites Hôtel Les Charmilles & Spa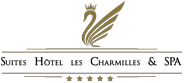 Suites Hotel Les Charmilles & Spa are located in the 9-hectare beachfront resort of Carthage Thalasso Resort, in the residential suburbs of Tunis, on the coast of Carthage, right on the water, 20 minutes from the airport International Tunis-Carthage, the historic city of Carthage is 7 km, Sidi Bou Said is 8 km, 20 km from downtown Tunis and 15 minutes from the main exhibition centers and opposite the center commercial Gammarth Center.
Hello
LUXURY HOTEL
Our Suites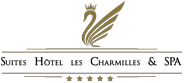 Luxury
Best clubs
Activities & Diversities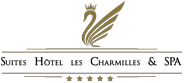 Spend the day as much as possible by enjoying the activities and clubs specials offered by the Hotel Suites Les Charmilles And SPA
Activities
Fitness room

Sports Hall

Kindergarten
Learn about well-being ... simply
Contact-Us
Booking!
https://suiteshotellescharmilles.com/wp-admin/admin-ajax.php

Pacha Club
The PACHA CLUB, allows you to access a magical and wonderful world to break with the routine and platitude of everyday life.
Relax and enjoy your holidays
Enjoy your vacation with superb services, views, activities and clubs, and our delicious food with usnDo not hesitate to call us for our extraordinary services